"Natural forces within us are the true healers of disease"
~ Hippocrates
Hi!
I'm Andrea Rossi, Registered Holistic Nutritionist, Registered BioEnergetics Practitioner, and founder of Holistic Harmony Health & Wellness.
The above quote is the foundation of everything I do and everything I believe in when it comes to health and wellness.
It is also why I founded Holistic Harmony Health & Wellness.
My passion for helping YOU stems from the philosophy that we all have the power within us to heal our body and take control of our health.
My mission is to educate, empower, and to inspire you to take control of your health!
So what makes me stand out from the rest of the health guru's and nutrition buff's out there? Well, for starters I'm a real person, just like you. I've had and still have my struggles with health but like you I'm constantly striving to be the best I can be, my optimal ME!
Being a Holistic Nutritionist ultimately means that my approach on health is not the same one you'll find in your pharmacy aisles. I work on the body on all levels to make sure that you're healthy from the inside out.
My goal is to get your body back into balance at which point your body can heal from whatever ailments it might be struggling with and thrive!
I personally struggled to get my health back on track for years. I had a ton of digestive issues and food intolerances for which, needless to say, was starting to put the strain on family dinners with my list of can't haves.
My relationship with food went from being loving (especially coming from my French-Italian background) to being fearful. It wasn't until I was introduced to the powers of BioEnergetics (BIE) that my whole world changed…
Energy is a very powerful thing. And even more powerful is the knowledge that WE are energy and that we can control it!
As a BioEnergetic (BIE) Practitioner, my job is to assess what YOUR body's energy is doing, what areas need some TLC, and what is the best way to go about it. No two people are alike and no two people will have the same results, EVER! That's part of what makes our bio-individuality so wonderful and yet so complicated when it comes to healing and health.
Let me ask you a couple quick questions:
How many times have you tried something that worked for someone you knew but not for you?
How many cleanses have you done with no success?
How many supplements have you taken without the desired outcome?
Now is the time to put an end to this trial and error health routine! This is where I come in and help you!!
Whether you're suffering from digestive issues, allergies and food intolerances, hormone imbalances, or a chronic disease (and the list goes on!) YOU have the power to heal within yourself – it just needs to be unleashed!!
Some of the services I offer are as follows:
Allergy & Intolerance Testing (foods, molds, pollens, household toxins, etc.)
Testing for Nutritional Imbalances (Including: vitamins, minerals, and hormones)
Customized Digestive Cleanse Programs (Including: Candida/yeast and parasites)
BIE (BioEnergetics) Process
Rubimed Psychosomatic Energetics Therapy (healing emotional blocks)
Programs and services are available to children (+6 mths) to adults.
Whether you've just started on your health journey or you are just about to give up hope, let's just start by talking about your symptoms and goals.
CLICK HERE to book in your FREE 20 minute Consultation now and receive your Whole Body Health Profile and find out if the BIE Process can help you reach your health goals!
If you have any questions or concerns, please call me at 647-883-5822 or email admin@holsticharmony.ca to see if I can help you with your specific health needs.
I look forward to getting to know you and helping you reach your full health potential! Your optimal YOU!
Much love,
Andrea studied at the Canadian School of Natural Nutrition (CSNN) and graduated with an Honours Certificate of Merit in 2011, acquiring the designation of a Registered Holistic Nutritionist (RHN). Furthermore, she is continuing her studies in Holistic Nutrition to complete her Advanced Holistic Nutrition Degree. As part of broadening her scope of knowledge and to bring new technologies to her clients, she also went on to study at the Institute of Natural Health Technologies (INHT) in 2012, becoming a Registered BioEnergetics Practitioner. Andrea has also completed level 1 and 2 of the Rubimed (PSE) Therapist Training adding in additional tools to help her clients heal on an emotional as well as physical level. Andrea also holds a Bachelor of Science degree from the University of Ottawa.
Andrea is a member of the Canadian School of Natural Nutrition Alumni Association, the Canadian Association of Holistic Nutrition Professionals (CAHN-Pro), as well as the Canadian Association of Natural Nutritional Clinical Practitioners (CANNP). Note that Andrea's services are covered under certain health benefits plans.
Our Practitioners
Lisa Jardine | Reiki Master, Huna Healer, Meditation Teacher, Oracle, Clairvoyant Medium, Holistic Nutritionist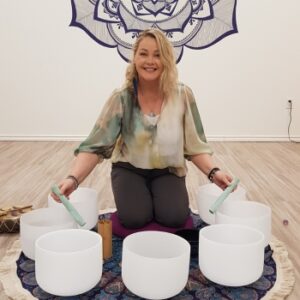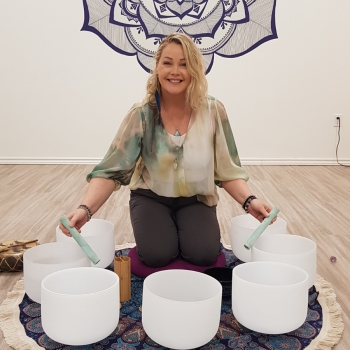 Reiki can be so powerful and effective because it infuses your chakras (energy centers) and your body with Universal light energy, clearing any energetic blocks. Your body takes exactly what it needs to at that point in time, in accordance with your divine alignment. As a practitioner, her responsibility is to simply act as a conduit for Universal energy in order to help healing take place optimally so that your body can heal itself.
Huna is Hawaiian Energy healing, where your Astro body is raised, also known as your Etheric body – where emotions are stored in your sub-conscience mind. She finds the story of what you are going through that are attached to your organs.
Lisa is an Oracle and a Clairvoyant Medium so she is shown the story by her guides and the Archangel's of what's in your energetic field. This can be either from a pass life, ancestral energy that is attached to you, and trauma from this life, and with dedication on the clients part, the energy is cleared and healed. Doesn't mean it didn't happen, it means that the energy of the story isn't affecting your health.
As a Meditation teacher, her circles are about spiritual growth while going into silence. Coming into higher awareness so as to expand your consciousness.
Bookings: via Holistic Harmony's Online Booking System: Click here for the direct link to book in with Lisa 1 on 1 or her events.
Appointments are available at 10am or 11:30am Tuesdays, Thursdays, and Fridays.